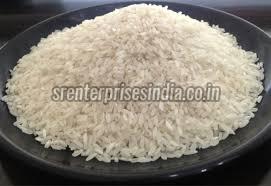 Non-Basmati Rice has been grown for hundreds of years in the Himalayan foothills and is one of India's most popular staple foods. It's a tasty and nutritious addition to our diet.
Non-Basmati Rice like the Jai Shree Ram Non-Basmati Rice comes in a variety of shapes and sizes. Some grains are long and thin, while others are short and bulky. Non-Basmati Rice, on the other hand, does not have the same qualities as basmati rice.
Some can be found in any kitchen. It's like a basic meal that everyone enjoys. People in Asian countries eat rice roughly three times a day, for breakfast, lunch, and dinner. Rice is offered in a variety of kinds on the market. Prices vary in terms of their properties and attributes. All are distinct and provide different nutritional advantages.
There are two types of rice that are commonly found. The first is basmati rice, and the second is non-basmati rice. Non-basmati rice is the more often used of the two due to its incredible health benefits.
Following that, you will learn about the health advantages of non-basmati rice. Get the best quality rice from a reputable non-basmati rice provider in India and consume it on a daily basis.
Gluten-Free and Anti-Inflammatory -
Gluten sensitivity affects some people. Rice is the finest food for them. Rice does not contain gluten and is therefore suitable for persons who have difficulties digesting gluten-containing goods. Rice also possesses anti-inflammatory properties, which are beneficial to our bodies.
You can easily incorporate rice into your diet. It will not create irritation in your gut because it is gluten-free. People must look for strategies to minimize inflammation in their bodies, which is why rice is ideal for all types of diets.
Better Nervous System:-
Do you have any nerve issues? Rice is the most effective aid for you. Vitamin B is critical for our nervous system. This allows it to function properly and smoothly. Vitamin B can be used for a variety of tasks. It also aids in the neurotransmitter process. Neurotransmitters manage our body's general biological activities. Rice is the best source of vitamin B. This is why consuming rice as part of your everyday diet will keep your nervous system in good shape.
Great Energy Source:-
Grab a hot dish of rice if you get fatigued easily and feel depressed at times. Carbohydrates are the fuel that our bodies use. When we eat carbohydrates, our bodies convert it into healthy carbohydrates, giving us the energy to complete a variety of tasks. Rice has a lot of carbs. This not only offers us energy but also allows our brain to function properly. Other vitamins and minerals found in rice aid in improving our body's metabolic rate. As a result, rice is generally beneficial to our health.
Helps Prevent Constipation:-
If you consume more in your regular meals, your digestive system will most likely function normally and you will be able to overcome your digestive troubles. Rice is strong in fiber, which means no constipation. This acts as a natural diuretic, assisting in the removal of water from the human body. People who suffer from high blood pressure will find the rice to be ideal. Eating rice will also benefit your kidneys. This is because, as previously said, rice aids in the elimination of water, resulting in frequent urination and hence no uric acid. This will be beneficial to your kidneys.
Non-Basmati Rice is an essential component of a well-balanced diet. A fast online search will yield a selection of the top Non-Basmati Rice Suppliers for Non-Basmati Rice.